Yudai Kamisato & Okazaki Art Theatre
Immigrant Ghost Stories
このイベントは終了しました
Learn, Watch, Think - Our Theatre Series vol.3
Ghost stories about what we can't see, what we can no longer see, and what we wanted to see The "invisible neighbors" haunting your present.
At the Kurume City Plaza, we select and introduce motivational works that capture the time and age, and attempt to engage using original expressions as part of the "Learn, Watch, Think - Our Theatre Series".
As the third edition of this series, we will perform Immigrant Ghost Stories.
Immigrant Ghost Stories is the play by Yudai Kamisato (Okazaki Art Theatre), the playwright and director known for his work about migration and crossing borders.
Featuring tales set in Laos, Thailand, Brazil, Bolivia, and Okinawa, stories and memories of people traveling overseas, and the histories of those places all intermingle and overlap. The stories that the characters tell evoke the uncertainties about the reality in which we live, and conjure up sensations and experiences that transcend time and space.
People. The land. Animals. Insects. Plants. Listen to the voices of all living things and embark on a journey of encounters with the ghosts—our invisible neighbors—that come into view beyond your imagination.
This very timely play inevitably brings to mind both the unprecedented recent past, during which nations around the world closed their borders and travel was restricted, and the present day, in which the ravages of war seem more real than ever.
【Performed in Japanese and Portuguese with English and Spanish surtitles.】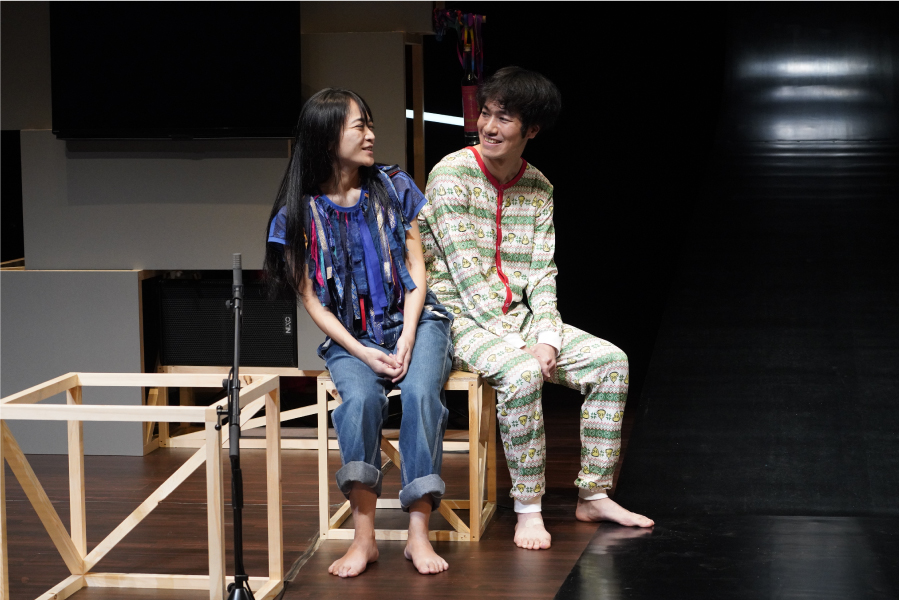 Photo: Wataru Oshiro
開催日時・場所
2023年9月2日(土) 〜 2023年9月3日(日)
久留米シティプラザ
Cボックス

2023.9.2(SAT),9.3(SUN)
Kurume City Plaza C box
Date and Time
2023.9.2(SAT), 9.3(SUN)
Saturday 2 September (5 pm) ★
Sunday 3 September (1:30 pm)
<Duration 100min(TBC)>
<Performed in Japanese and Portuguese with English and Spanish surtitles.>
★Post-performance talk
Ticket Price(tax in)【Unreserved seating】
Adults:¥3,500
Under 25 years old:¥2,000
High school students or less:¥1,000
※High school students or less and U25s are required to show identification when entering
※Please refrain from entering children under school age
※Child-care service available (limited capacity/free/reservation required TEL:0942-36-3000)
※For persons using a wheelchair, please contact Kurume City Plaza before visiting
Staff and Cast
Playwright and Direction:Yudai Kamisato
Actors:Miki Uejo, Wataru Ohmura, Shu Matsui, Beatriz Sano
Stage manager:Ayumu Okubo (KWAT)
Set design:dot architects
Lighting:Masayoshi Takada (RYU), Go Ueda (RYU)
Sound:Bunsho Nishikawa
Costumes:Chie Ono
Video:Yoshitaka Shimada, So Fukuoka
English surtitle:Aya Ogawa
Spanish surtitle:Yaxkin Melchy
Surtitler:Kyoka Kawai Arisawa
Flyer and website design:bankto LLC.
Production coordinator:Tomoya Takeda (bench.), Haruna Hirano
Produced by Okazaki Art Theatre
Co-produced by NAHA CULTURAL ARTS THEATER NAHArt
Invisible neighbors —ghosts and spirits— lurk in our daily lives. You could say they are our neighbors. Discussion about whether they exist or not can be dispensed with. They exist only for those who can see them. You could also say, those who do not want to see them cannot. Incidentally, I have never seen one, but I want to. It is okay if something is invisible to us. But what would happen if such "invisible neighbors" were to transcend national and regional boundaries? This is the idea that inspired the conception of this work. It is said that ghost sightings increase after wars and earthquakes. Thinking of the dead leads to the emergence of ghosts. If this is the case, then ghosts seem to be an indispensable part of our lives. As time passes by and such reasons for the birth of ghosts are forgotten, I wonder if they will become spirits of unknown origin.
Yudai Kamisato
Story
Three people gather for a reunion. One talks about going to Thailand in search of the origins of shochu (a kind of Japanese liquor) and the captivating woman he met there. Another describes people who immigrated to a faraway place. The other talks about Okinawan ghosts. Drink. Pensions. Festivals. War. The future. Death. Barbecues. Previous lives. The stories the three tell range far and wide, but they seem to talk past each other, not with one another. Far from it, they don't even seem to see the same things. Is that twinkling light above them the starry sky? Or the flashes of bombs? And what appears from the stories that they tell?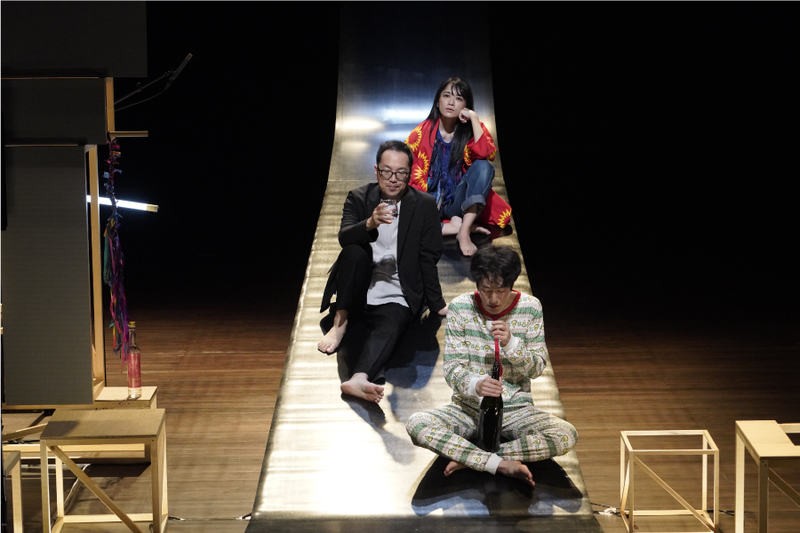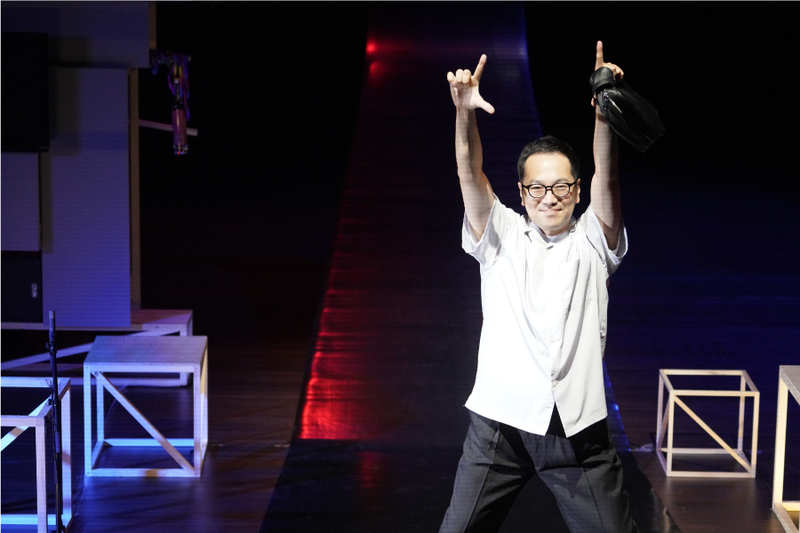 Immigrant Ghost Stories at NAHA CULTURAL ARTS THEATER NAHArt
Photo: Wataru Oshiro
Profile
Playwright and Direction
Yudai Kamisato
Born in 1982. Playwright and stage director. Taking the theme of people and cultures that traverse borders, the works he creates also incorporate his own experiences. In 2006, he won the Toga Director Competition Best Director Award for Desire Caught by the Tail (by Pablo Picasso). In 2018, he won the 62nd Kishida Kunio Drama Award for The Story of Going Down the Long Slope of Valparaiso. He has been invited to many performing arts festivals in Japan and overseas. He stayed in Buenos Aires, Argentina from 2016/10 to 2017/8 as an overseas trainee for emerging artists of the Agency for Cultural Affairs 2016. His books include a collection of plays The Story of Descending the Long Slope of Valparaiso (2018, Hakusuisha) and People Who Go Beyond—Ask Young People of Japanese Descent in South America (2021, Aki Shobo). He became a Saison Fellow of the Saison Foundation in 2022.
Tickets Sales Start 2023.7.8 (SAT) 10:00~
 Kurume City Plaza Box Office 
10:00-19:00/May be closed due to maintenance and inspection
お問合せ
Contact: Kurume City Plaza Office
| | |
| --- | --- |
| TEL | 0942-36-3000(10:00~19:00) |
| FAX | 0942-36-3087 |
| 備考 | 8-1,Mutsumon-machi,Kurume City,Fukuoka Prefecture 830-0031 |
| | |
| --- | --- |
| Presented by | Kurume City Plaza , Kurume City |
| Supported by | the Agency for Cultural Affairs, Government of Japan in fiscal 2023 |